Tooth Gems & Charms
Luxury tooth jewelry for a sparkling smile!!!
Are you looking for a unique way to elevate your style and express your personality? Tooth gems are tiny, removable jewels that can be attached to your teeth using a bonding adhesive. Tooth jewelry does not permanently alter or damage your teeth, making them a great alternative to other cosmetic dental products. They can be applied to stay on for six months to two years, and there is a massive variety of styles you can choose from. If you have something specific in mind but don't see it in our selection, our boutique jeweler can create a custom piece that suits your preferences and exceeds your expectations. Get in touch with us today to learn more about our tooth gems and tooth charms services, and book your appointment today!
Get Sparkling Teeth That Make a Statement
At Tooth Dripp, we offer the best selection of tooth gems, tooth charms, and custom tooth jewelry. Our tooth gems are made by an experienced jeweler, using the finest dental-friendly materials, and they can be customized to fit your unique style. From genuine Swarovski crystals to stunning 18-24k rose gold, yellow gold, white gold, and more, you can rest assured that your tooth jewelry will be made with high-quality metals that can stand the test of time. Check out our collection of tooth gems and tooth charms, and get in touch with us if you'd like to learn more about creating a custom piece.
Why Trust Tooth Dripp for Your Tooth Jewelry?
When it comes to your smile, you don't want to take any chances. Led by a registered dental hygienist with more than 20 years of experience in the dental industry, the certified tooth gem technicians at Tooth Dripp have the training, resources, and expertise to ensure that your jewelry is applied safely and correctly. Unlike some technicians, our team has a background in tooth anatomy, oral hygiene, and dental practices, so you can rest assured that no damage will be done to your teeth. Contact us today to book an appointment!
What is a Tooth Gem?
A tooth gem is a small, removable jewel that can be attached to your teeth using a bonding adhesive. Tooth gems are often used as an alternative for those who do not want their natural teeth permanently altered. They stay on for six months to two years. Plus, there is no drilling, and you can choose a look that fits you!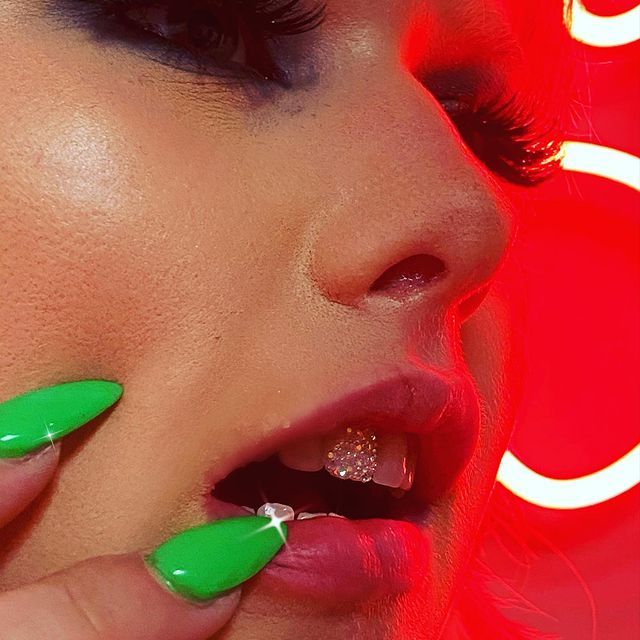 Teeth that Sparkle!!!
We use genuine Swarvoski crystals, gold gems, and various styles of tooth jewelry and apply them using safe dental materials. Teeth gems are painless and do not harm your teeth. They will not interfere with eating or regular brushing, and they are stain-resistant too!
Gems are beautiful and can last a very long time with proper care. The color, shape, or size of the gem depends on your personal preferences! The joy of having a tooth gem cannot be understated, and that's why we have such an incredible selection. Another advantage is that they can be applied to whatever teeth you choose, and we can freestyle different looks to make them stand out. The potential for variety is endless here at Tooth Dripp! Schedule a visit with us and enhance your smile!
*Teeth Whitening Also Available*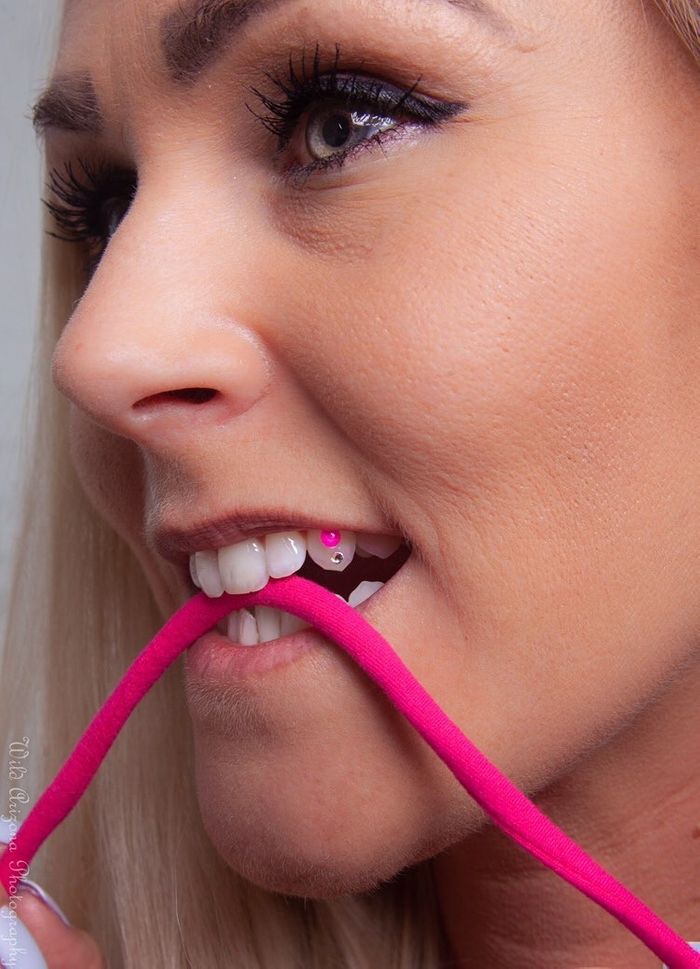 Tooth Gem Aftercare
Do not touch your gem or play with it right after application.
Do not eat until at least 2 hours after the crystals are applied.
You can drink water right after your treatment.
Eat soft food for 12 hours after your gem application. No chewy candy either!!
Make sure to visit the dentist twice a year to make sure that the tooth gem is safe and secure and your teeth stay nice and healthy.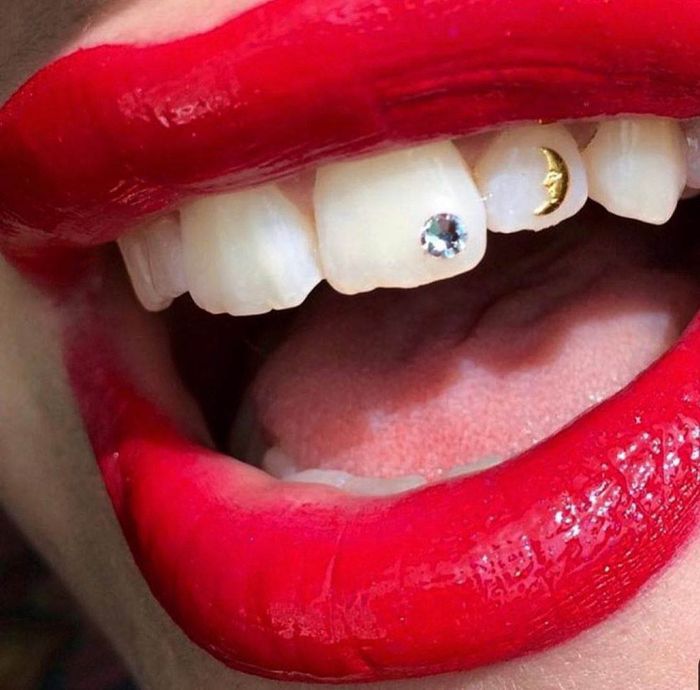 Dazzling Gold Tooth Charms
Tooth Dripp is a leading provider of gold tooth charms. Made with 18-24k gold and painstakingly crafted by an experienced jeweler, our gold tooth charms set the industry standard for quality, aesthetics, and durability. Our tooth charms are available in rose gold, yellow gold, and white gold, and they can be custom-made to your specifications. Take a look at some of the gold tooth charms that we have available, and get in touch with us today to speak to a helpful member of our team about having a custom piece created.
Tooth Gems and Charms for Technicians
Are you a tooth gem technician looking for the best tooth gems and charms for your business? If you sign up for the Tooth Gem Technician training courses from Tooth Dripp, you will receive purchasing access to the top-of-the-line tooth gems and tooth charms that have made us so successful. As a member of the Tooth Dripp community, you can purchase these premium products at wholesale prices. Contact us today to get started!